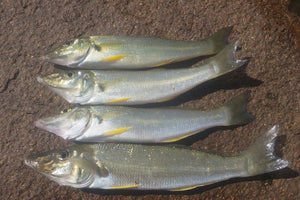 Whiting Fishing Tips for Kayak Anglers
What you need when chasing Whiting on a kayak
There is clearly restricted space on the kayak. This factor makes it so important to know exactly what gear you should be taking out with you on a fishing session. Equally it is important to keep your gear in order, as disorder can quickly turn into a bad session.
An important tip is to think about what you are targeting before you head out. For example if you are targeting whiting, ensure that you have the right gear on-board for that species. However, it also pays to know what other species are around that you might also encounter as bi-catch. If you decide to change your target species whilst you are out on the water you will need to be prepared for this. 
Over the years pro anglers have professed that sticking to your target species will improve your overall catch rate. This advice is pretty true when it comes to kayak fishing. Given the limitation of speed or distance covered when fishing from a kayak, you need to bring your A game, get straight out to the fish and carry the right gear for the job. Carrying around the bulk of your tackle box and non-practical items will add weight to your kayak and slow you down.     
When it comes to rods when fishing for whiting try use a rod that is between 6-7 foot long and around 1-3kg. This size rod is great for whiting and is really good for allowing the angler to fish around the front or back of your kayak. From my experience you don't want to use a rod any longer the 7 foot, as it will cause the angler issues, when trying to land the fish in the tight confines of the yak.
In recent times I have seen rod manufacturers targeting shorter rods for kayakers, however, I am not a fan of shorter rods for the use on a kayak. My reasoning for this is that shorter rods do not cast as well as larger rods do, and secondly, as mentioned above, you will find it incredibly difficult to fish over the bow with a short rod.
I prefer a one piece rod (ugly Stik) as they are strong and as rods tend to be subjected to a bit of bash and crash on a kayak, I find that I am no longer replacing rods every year. However, if you are an open water kayak angler then perhaps a two piece rods is ideal as you need to stow your gear away when trying to get out beyond the breakers.
Nevertheless, if you are an estrin or bay kayak angler, then it is best to have your rods all set up, well before you reach your destination. Kayaking is all about preparation, so make sure that you are all pre-rigged. Rigging up the night before is a ritual for most kayakers. However, once you are out on the water it pays to have pre-made rigs within your reach, in case of bust offs or a snag. This type of preparation will save you time out on the water and ensure you don't miss a good fish because your rods are out of the water, due to you having to rig up from scratch.
(A few pre-made whiting rigs ideal for storing in your PFD - Paternoster Flasher rigs and running sinkers) 
When I am fishing my local spot chasing whiting, the majority of my gear is stored in my PFD. My PFD has a number of storage pockets which are utilised to the maximum. In those pockets, I carry my essential tackle, from sinkers to hooks and plenty of pre-tied rigs. Don't go over-board with the sinkers though as you may inhibit the PFD doing its job effectively if you weigh it down too much.
If you don't have a PFD with pockets you can use a really small tackle carrier (water proof), which can be tucked behind your chair. When it comes to pliers or my knife I have them tied to my railblaza Dash Kit for quick assess. I don't like to have leashes on everything in my kayak for safety reasons. If I capsize then I am at peace that I will inevitably lose all my rods, I'd rather that than take the risk of getting tangled in leashes. The only two things that I have tied down in the cockpit is my pliers and knife. Prior to tying these items down, I couldn't tell you how many times I've had to look for pliers or my knife when you need them the most.
Normally having the right landing gear is vital. I lost a few big fish when I was starting out because I was unprepared to get them in the yak. But when fishing for whiting I find a net is not required, unless there are big whiting in your local fishery? But for the most part when fishing for whiting a net is not an essential item.
When I first started kayaking I used to carry around an esky on the back, but now days I don't do that, I just use a bit of ice and a Coles cold bag inside the front hatch. This saves heaps of wind drag and keeps the yak much lighter.
Locating WHITING
The first step in the hunt for whiting is obviously to locate them. Whiting can be pretty easy to find, although, they do travel around a fair bit, but once you get them on the bite, it can be easy to bag out. Whiting's constant movement is what makes catching them on a kayak so challenging, if you anchor up at a spot, and don't get a bite after 15 minutes then it's time to move on.
Look for weed patches among sandy holes, and cast into the weed patches or at least on the edge of them. If you are going to cast into the weed patches use a paternoster rig as this will help keep your bait out of the weed but still close to the bottom.
As a general tip you will find whiting in greater numbers in the shallows, rather than the deeper water. About 2-5 meters is idealistic. However, if you are fishing in an area that has strong tidal movement then an alternative tactic maybe in order. Based on the amount of movement of water, this factor will tend to dictate the sort of rig best suited for the job.
Another tip here is to ensure that you are set up for both shallow, deep, slack and fast running water. If you are fishing shallow mud flats or deep channels, whiting can still be found in abundance.
For an in-depth blog on how to locate whiting click here
Which BAIT?
Whiting love a good soft bait, such as mussels or pipis/cockles, however, don't look past the humble piece of squid or cuttlefish. If you are going to use squid be sure to tenderise it, to help soften it up. One overlooked bait for whiting is bass yabbies, they are dynamite. So if you have a pump and some time on your hands prior to going out for a whiting session, I highly recommend pumping some yabbies. The downside of the bass yabbie is that it is hard to keep it on the hook for long periods of time. Bass Yabbies are best fished live. 
For an in-depth blog on best baits for whiting, click here 
Tackle
There is heaps of gear on the market that you can utilise for whiting fishing. Some are unassuming and low-cost, and others can be elaborate and expensive gear. So it really is up to the angler's preference and budget. Whiting can be great fun to hook onto especially on light tackle and they always deliver an awesome fight, keep this in mind when you are selecting your gear.
Whiting are a very curious fish and often will follow and have a good look at a lure or a bait, when it's on the move. It's a good idea to keep this in mind when choosing your rigs.
There are many variations of rig types that you can make that will catch you some good whiting. One variation is to use a small swivel with a lightly weighted sinker above it and have a mono trace of about 50 centimetres secured from the swivel to your choice of hook. Use a red plastic tube or even red lumo bead on the leader just above the hook. The purpose of the tube or bead is to get the attention of the fish and to entice them to investigate. For the most part, if the fish comes over for a look, the chances are it will try and have a feed on your bait.
Ensure that you invest in the sharpest hooks that you can afford, as this sometimes can make huge difference. Even if you buy a cheaper hook, then do yourself a favour and by a hook sharpener from your local tackle shop or even online. An alternative to this is you can use a sharpening stone. I used to ditch my hooks after they had been in the water after one session, until I bought a hook sharpener, this is a handy tip if you are using pre-made rigs, like flasher rigs, it will give them a longer life.
A few TIPS to catching a bag of whiting
Here are our top tips for catching these timid fish:
Keep your line as light as practicable and in line with the environment you are fishing. Whiting are typically hooked in sandy areas so you can easily use one or two-kilo leader.
Use a small sinker on your rigs, again adjust this to the area you are fishing based on the water movement and depth.
Use a mix of hook such as small long-shank and circle hooks this will allow you to fish multiple rods, ensure that you cast out in a fan shape, this will help you cover a great area of water.
Change up your fish with multiple bait types until you see what is working the best. This may fluctuate day to day.
Keep on the move - keep changing up your location if you haven't had a bite within 15 minutes.
Burley up hard with discarded mussel or pipi shells, and other fish products.
When you have located a school of whiting, try casting back to the same spot, upon retrieval whiting will vomit up their lunch, this will help to keep the school in your location. So leave the fish in the water as long as you can.
Summary of Essential Gear for Kayak fishing for Whiting
6-7ft Rod – (weighted reel – use mono as braid if too fiddly on a yak)
Anchor (once you locate a school you are going to need to stay put)
Pre-Tied rigs – Paternoster / Running Sinker / Flasher Rigs (#4 circle Hooks)
Pliers
Surface Poppers
Bait (Squid / Pipis / Muscles)
Berley/Berley Pot
---------------------------------------------------------------------------------------------
---