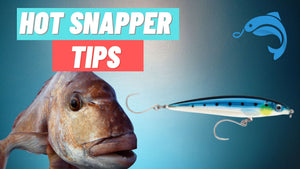 Snapper Basics During Winter - Snapper Tips
It was a cold winter's night and I had been out on the water for about an hour and hadn't had a single bite. I was freezing cold, wet and beaten, the pieces of pilchard I was throwing into the water were floating back toward my kayak, and I was contemplating pulling up the anchor and heading home. Suddenly my reel started screaming, and line was pulling fast off my spool. At the same time I was both excited and worried I was about to be spooled by a big fish. After the fish an I traded blows and I managed to gain some line back, my second rod went off screaming too. Yep, double hook up, every anglers dream right? As the sun was showing its last glimpse of light I could see bursts of red in the water as I was close to landing the first fish, "oh yeah, a big snapper, you beauty". The action kept up like this for a full hour, fish after fish, this is what we as anglers crave for, without a doubt. So what turned on the snapper that cold winter's afternoon? Well, I made just a few simple changes before I decided pull up the anchor that night, and now let's discuss a few tips which made all the difference and whilst we are at it, why don't we throw a few extra tips in for good measure. 
One common method of snapper fishing that has been around for years is bouncing sinkers on the bottom of the seafloor. There are specialised sinkers which cater for this style of fishing which, believe it or not are call snapper sinkers. Normally these sinkers are used in conjunction with a paternoster rig and deployed on deep offshore reef systems. The land based angler also takes advantage of these sinker as they are great for getting good casting distance.
Snapper fishing in the old days meant using landmarks as way of finding your favorite ground to fish. This method has been replaced with the modern day sounder. However, as a kayak fisherman I still find this old style useful, as I like to travel light and carrying the extra weight of a battery, is not always ideal. Once you are in position and you lower your rig to the bottom, ensure that you lift the sinker off the bottom if you are fishing on broken ground or reef. The best way to bottom bash is to get your vessel on the side of a reef where it is sandy, and then you can really let those sinkers work the bottom and bashed them away whilst you are on the drift.    
Free Floating Baits
One of things that I changed that night, when I had the session of a life time was, the fact that I removed my sinkers from my rigs. Snapper love a slow sinking bait and will find it hard to say no. I got this tip from an old timer at one of the local angling clubs in my area. A freely floated bait that is strategically placed, smack bang, in the middle of your berley trail is unbeatable.
One of the best rigs to use in this situation is a twin hook snelled rig, as the rig helps to present the bait naturally. As for the type of hook pattern, I think it depends on the time of year you are fishing. For example, if I am fishing in the middle of winter I find that the snapper are little more finicky. So, I tend to use circle hooks when the fish are little shy, on the other hand, when it is mid snapper season and the fish are hungry, I like to use octopus beak hooks. The other adjustment I made that night, was I lowered my leader strength down, I went from 60lb down to 40lb fluorocarbon leader. However, I did not change the hook size as I persevered with the 4/0 circle hooks. 
Snapper will hit a bait with the speed of a freight train at times, or they can be a little shy and just nibble before they will fully take a bait. I think over time with experience the angler eventually figures out the fish's biting mood, which at times will have a pattern to it, remember, in each area snapper will have their own set of behaviours, that are usually consistent at the same time each year.
A good tip especially when the fish are finicky is to give them some slack and let them run for a couple of meters before you set the hooks. I find that the Shamano Baitrunners are the perfect reel for the job. The Baitrunner has been designed with the focus on the natural way to present the bait and feed the line without the fish feeling the weight of your rod, line and sinker. If you don't have a Baitrunner then you can always simply cock your bail arm over and let the snapper run free, until you are ready to strike the fish.
The other thing I change that night was I replaced my standard snapper flasher rig with a Super UV rig. The extra glow of the UV material definitely tempted the fish to take a bite of my bait. Given the water was a little murky the Super UV proved to be the game change. The other aspect I changed was the direction I was casting. As I noticed that the berley was drifting back toward me a spun my kayak around to face the same way as my berley trail was going.   
The use of berley is definitely an important factor in successful snapper fishing in the winter months. A good berley trail will stimulate even the most wary snapper into a feeding mood. Next time you catch a snapper check its mouth to see if there are any traces of your berley, this is a great way of knowing that your berley is working well. The main bases of my snapper berley is pallets, as they are easily stored at home and can be super easy to store and transport when needed. Another important ingredient is bread, which is relatively inexpensive. I use a good quality tuna oil and top it off with left over frozen pilchard from my last fishing trip.
Lower this down in a berley pot and let it hit the bottom, then retrieve a little rope on it, so that it sits just off the bottom, this will allow the flow of the water or vessel to keep it working. In addition to the berley pot, throw some cubes of pilchards out in the water every 5-10 minutes, but be sure not to overdo it, as you don't want to feed the fish up.
When it comes time to bait up, really take your time and try to make the most natural presentation possible. Ensure your hooks are hidden but the point and barbs exposed. If you are using twin snelled rig finish it off with a few half hitches on the end of your bait. Snapper tend to grab a full bait fish such as a pilchard by the head first, so make sure you have a hook buried in the head and the point coming out of the gill plate. Check which way your berley trail is flowing prior to casting and cast into the same direction that it is flowing out.
Soft plastics
I tried soft plastic on and off over the years, with no success, and I had just about given up on them. However, I adjusted a few simple things such as the getting the right jig head to match the plastic size and started fishing with lighter leader. These subtle changes made all the difference, and suddenly I was enjoying catching many fish on the plastics.
Without a doubt it is a different style to bait fishing, and requires a lot more energy, but if you do like to keep busy then soft plastics might be for you. I have found that three and half inch grubs with a curly tail work best in my local area, especially in the white colour. Having said that, it is hard to give advice on what might work best in your area, so the best thing to do is trial and error. One tip that I can offer, is to check out Youtube videos of other anglers fishing your local area, often you will see what plastics are working in the region you fish. Also, best to keep your rig set up as light as possible, it will pay to sacrifice a little casting distance with a smaller jig weight and a smaller hook, I found this improved my results.  
Hard-Bodied Lures from the Kayak or Boat
Often before I get out to my chosen spot I drop a hard-body lure overboard and troll it for the duration of the trip. I started to notice that this was an effective way of catching a few extra snapper. I use the Repla X-Rap 14cm sardine, but one of the modifications I make is to add a ball sinker between the swivel of the leader and the lure. This adjustment will help the lure get down deeper and closer to the bottom of water column. The 14cm X-Rap is a pretty big lure so you will find that you hook up some really big fish. Ensure that you let out a fair bit of line so that you are trolling the lure well away from your vessel. The other tweak I make to the lure is I remove the treble hooks and I replace them with singles, I find a much better catch rate by doing this and also a lot less lost fish.
Well there you go we have covered quite a few techniques in this article and we hope you picked up a few tips and you get out there and catch a few more snapper this winter. If you enjoyed this blog be sure to sign up to our newsletter so you get notified when we post a new blog and get first access at some of our hot deals at Hook in Mouth Tackle. 
-----------------------------------------------------------------------------
---