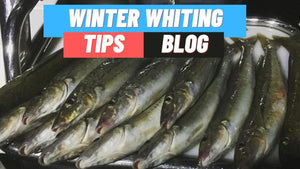 Winter Whiting | King George Whiting
All thought whiting can be caught all year round, they can be a seasonal fish. The best time of year will be dependent upon your location throughout Victoria, Tasmania, South Australia and of course Western Australia. So check with you local tackle shop or find yourself a good local book to get a better understanding of the best times of year in your area.
Catching King George Whiting (KGW) in the middle of the winter is certainly not an impossible task, if you arm yourself with a few extra winter tips, before you know it, you will be bagging out.
Where I come from (Northern Port Philip Bay) winter can produce some of the best angling and boating conditions. With the wind predominantly blowing from the North to the North West during the colder months. This wind direction creates absolute glass conditions for sometimes weeks at a time. So if you can withstand the cold of winter, you will find yourself fishing in some great conditions. Investing a little coin into some warm waterproof clothing will be a great return on investment.  
If there's one thing we have learnt over the years, it is that we are more likely to bag out on KGW on a nice calm day. The backing off of the wind throughout the winter also means that the water clarity is fantastic, another great element for whiting fishing from our experience. These same conditions are also in alignment with good squid fishing. So it pays to double down during winter and target both squid and KGW at the same time. This is a great strategy to adopt, prior to the arrival of the spring snapper season, as it will give the angler an opportunity to fill their freezer with some quality bait for some early snapper.     
The winter can present the opportunity to catch larger KGW, as the angler should begin to target whiting away from the normal hunting grounds such as sand patches and weed beds. The angler should move to deeper water and fish what is known as "winter bottom". Winter bottom is harder ground, for example patchy reef or broken rubbly bottom. Look for a little bit of stone and some heavy weed.
The angler's starting bait should be pipis or cockles, this will get the fish fired up and eating well. However, given we are fishing in a different ground setting during the winter, the angler might find that they get plagued by leather jackets and other reef dwelling fish. If this does occur, consider moving away from pipis/cockles and move to a harder bait such as squid.
The other adjustment you may need to make, as a result of fishing harder ground is your rigs. The angler should consider upping your leader breaking strain. In sandy bottom conditions, I like to fish with 10-15lb fluorocarbon leader, however if I am fishing the harder bottom I will fish a leader of about 30lb. I use two different rigs styles when targeting KGW. Both these rigs have provided great success over the years, but if I had to choose one over the other, it would definitely be the paternoster flasher rig over the humble running sinker. I really do love the flasher rigs, for one simple reason, because they use circle hooks. This allows me to fish multiple rods, as the hook does all the work of hooking the fish without the angler's intervention. The other reason flasher rigs fish well, is because they use bright colour material which attract the fish's attention, especially as whiting are an inquisitive fish.   
We all know that the key to attracting KGW is to anchor up and berley hard. However, one overlooked method is getting on the drift. This is a great way to find the fish, nevertheless, it can be problematic when fishing along hard bottom. To overcome this issue, lighten off your sinker weight as much as possible. KGW are a foraging fish, so they spend most of their time with their lips in the sand looking for worms, yabbies, etc. Knowing this fact, the angler will need to get their bait to the bottom, in order to get the attention of the fish.
KGW will bite any time of day, but like most fish the best time is to target them around dusk and dawn. You will need to arm yourself with the right type of rod and reel to get the job done. I suggest something in the seven foot mark from a rod perspective if you are fishing from a kayak or boat, however, if you are fishing from land consider something a little longer. You want a rod with plenty of whip in it, this will allow you get a good casting distance. The angler's rod should have plenty of sensitivity so that you can feel every bite. The rod should be around 1-2kgs. Pair this with a size 2000-2500 thousand spin reel. When it comes to the old debate mono or braid, it really is up to the angler. I personally am a mono man, because I believe it doesn't tangle as much as braid does, and I find tying knots easier with mono too. Having said that I can totally understand the argument that braid is better because it has less stretch in it than mono, and therefore the angler can feel bites more easily. Which is helpful given KGW can be very soft biters at times.  I'll leave that with you to debate, either way just get out there and have a go at getting some winter whiting.    
For more blog articles related to whiting fishing or other species such snapper  & flathead check out our fishing blog:
https://hookinmouthtackle.com/blogs/news
Click here to get your discounted rigs:
---